MEANWHILE BACK ON MARS, MORE PERFECTLY NATURAL FORMATIONS…
While all of this has been going on "down here" there more news about what's been going on "up there," in this case, on Mars. Well... maybe not so much "up there" but rather what people "down here" are saying about what may have been going on "up there" according to this story shared by V.T.:
Possible new type of glacier just discovered on Mars
The article's main point is summarized in its opening paragraphs:
A potential Mars landing site might be underlain by debris-covered glaciers.

Strange sinuous features on a flat plain known as Arcadia Planitia bear a striking resemblance to ice streams within ice sheets in Antarctica, a new study finds. If these shallowly covered glaciers do, in fact, exist, they could be a reason to direct future crewed missions to Mars toward the region. The spot was already intriguing to SpaceX and NASA because it is a broad, flat plain, which is ideal for landing spacecraft. If there is ice not too deep below the surface of the plain, astronauts could also have a water source easily at hand.

The newfound flow-like features are strange because they occur on flat terrain, said study leader Shannon Hibbard, a doctoral student at the University of Western Ontario in Canada.

"There's lots of evidence that this is an ice-rich area, but we don't have any major topographic relief occurring where these sinuous features are," Hibbard told Live Science. "They're existing in a pretty flat-lying plane, so that was kind of odd."
To make its point, the article is accompanied by the following picture: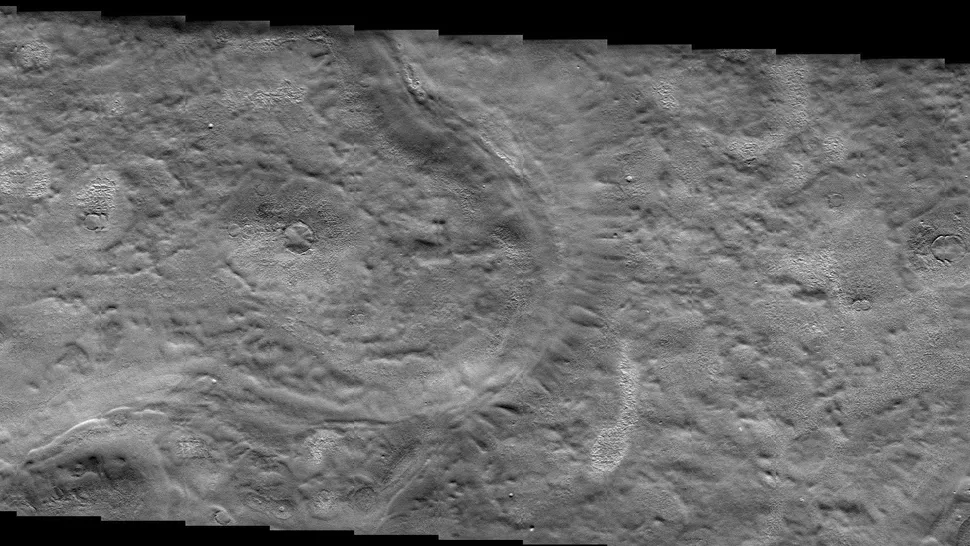 Except when I look at this with my layman's eyes, I'm not seeing much about Antarctic ice flows, and a whole lot of "weird stuff" that borders on things that look like nearly perfect circular whatchamacallits:
And then there are lots of odd litte "bumpy" things, often neatly arranged in rectangles, triangles and so on:
And then finally we have lots (and lots and lots) of rectilinear and "structural" looking things:
And when one looks at the large picture, without my own little circles and arrows, one  indeed sees what may be an "ice flow" that looks a lot like  - ahem - those Antarctic ice flows. But if one looks at that area to the left of the ice flow carefully, one sees a veritable plethora of rectilinear features that look almost like one is looking at the ruins of a city next to a dry river bed. Of course, "looks like" is a far cry from "actually being", but I think you get the point.
Now assuming the original picture has not been "doctored" or "photoshopped,"  I'm bold to suggest that if I can see all these things, you probably can too. And if we can see them, then "they" can too.
Perhaps these things are the real reasons for a "future crewed missions to Mars toward the region."
See you on the flip side...
Please understand a donation is a gift and does not confer membership or license to audiobooks. To become a paid member, visit member registration.