ITALY BANS FRANKENDAVOSMEAT, THEN HAS MAJOR ATMOSPHERIC ANOMALY
April 3, 2023
/
/
Comments Off

on ITALY BANS FRANKENDAVOSMEAT, THEN HAS MAJOR ATMOSPHERIC ANOMALY
Today's blog consists of two entirely different sets of articles, and my bit of (really) high octane speculation that they might be connected in a Robert Gates - New Japanese Government - Fukushima earthquake-and-tsunami-and-reactor-meltdown sort of way. What am I talking about?
For one thing, as the following articles from W.G. and E.E. note, Italy - which is the only  major European power showing some spine and common sense lately - has moved to ban Frankendavosmeat, which is what we're calling the artificial and synthetic "food" concoctions being advocated by the likes of Der Hochklaus von Blohschwab Freiherr von Bomburst. (And yes, I'm aware that the French are protesting like crazy against their government Davos-lacky-in-chief, M. Macron, but unfortunately the French haven't elected a government that has some spine and common sense like Italy has. So for the moment, I'm sticking with my assessment of the Italian government and the country itself). Anyway, as the following articles make clear, Italy has moved to ban Frankendavosmeat - though we sincerely hope that if Der Hochklaus swoops in on his broom for a state visit, that the Italians will feed him a steady diet of bugs, cricket breads, and Frankendavosmeats on a three-D printed pizza. You vill eat your bugs und be happy!
Anyway, here's the articles:
Italy moves to ban lab-grown meat to protect food heritage
What's very intriguing to note here is a statement by the Italian Minister for Agriculture and Food Sovereignty, Signor Francesco Lollabrigida, cited in the second article linked above:
The government of Italy has backed a bill that would ban lab-grown meat in the country to protect its rich food heritage.

If the bill passes, it would fine violators of the lab-grown meat ban up to €60,000.

"Laboratory products do not guarantee quality, well-being and the protection of our culture, our tradition," said Minister for Agriculture and Food Sovereignty Francesco Lollobrigida on Wednesday.

...

He followed up on Twitter, declaring, "Italy is the first nation free from the risks of synthetic foods."

"A courageous result from the Meloni government, a strong stance in favor of the many traditional producers, besieged by a few increasingly unscrupulous multinationals," he tweeted.
What is interesting to note here is that Signor Lollobrigida has tied a cultural issue to a safety issue (Laboratory products do not guarantee ... well-being" and to a quality and health issue ("Italy is the first nation free from the risks of synthetic foods").  Or to put it in the clearest terms: an attack on our food, its quality, safety, and so on, is a potential attack on our health, our sovereignty, and our Italian culture.  Italy's stance is thus reminiscent of Russia's reaction to the West's (and the Ukraine's!) adoption of lax intergenerational testing standards to ram through their governments' acceptance of GMO foods and their "substantial equivalence" to regular normal food.  Russia simply rejected GMOs until such intergenerational studies could be rigorously conducted.
As for substantial equivalence, that is a form of the argument that if it looks like carrots and tastes like carrots, then it's carrots, in spite of the genetic modifications done to the GMO version, which are patentable, and with some modification, could be used to cause genetic modifications in the consumer of said GMO carrots, and thus perhaps be a way to allow the corporations producing them to assert a lein on anyone's body so genetically modified. It sounds like a far out, off-the-end-of-the-twig speculation, but I've been raising this alarm about the possibilities of GMOs and their consumption to assert such liens for some time. Add to this the quackcination technology, and the fact that Baal Gates and other synthetic food advocates have been talking about "vaccincating" populations via the introduction of their injections into GMO foods, and voila!...you get the picture.
With that in mind, let's turn to the other part of this possible Robert Gates - New Japanese Government - Fukushima earthquake-and-tsunami-and-reactor-meltdown scenario. Just to clarify, in case you're a new reader here and not familiar with my speculation concerning the Fukushima tsunami, earthquake, and reactor meltdown story, let's review the broad sequence of events.  You might recall that for a very brief period prior to the accession of Shinzo Abe to the Japanese premiership, that Japan elected a new government which essentially was completely out of synch with the Liberal Democratic Party governments that had ruled that country for many years, and which still does. That brief period was a considerable hiccup, for it immediately signaled its wish to renegotiate the presence of the US military base on Okinawa - a sore spot for many local Japanese and therefore with their national government - and additionally, that same Japanese government even broached the idea of a rapprochement with mainland China, suggesting the unprecedented step of a state visit of then-Emperor Akihito to that country in an attempt to bury centuries' of mistrust between the two countries, and to repair the damage to Sino-Japanese relations caused by the Japanese invasion of China during the World War.
In response to this, then US Secretary of Defense Robert Gates, the only Republican hold-over in the Obama administration from the previous Bush administration, issued a statement to that Japanese government that could only have been understood to be a direct threat. Shortly after Gates' message, there was a massive earthquake in the Pacific, which caused the tsunami, which caused the reactor meltdown at Fukushima. The US then used its forces stationed in Japan to "assist" the Japanese after the disaster, thereby demonstrating the utility of not shutting down the bases on Okinawa.
My point then and now is that in a world where it is possible to weaponize the weather and geophysics itself, such "acts of God" are more likely to be "acts of a sophisticated and very secret exotic technology", and the formula for interpreting such "acts" are the geopolitical and/or financial contexts in which they occur.
This brings us back to Italy. Consider the following article shared by U.:
Note this from the article:
For a few milliseconds last Monday night, March 27th, an enormous red ring of light appeared in the sky over central Italy. Valter Binotto photographed it from the small town of Possagno in the foothills of the Italian Alps:

This is an "ELVE"--short for Emissions of Light and Very Low Frequency Perturbations due to Electromagnetic Pulse Sources. It's a rare species of sprite discovered in 1990 by cameras onboard the space shuttle. Binotto may have just taken the best ever picture of one from the ground.

"The ELVE was generated by intense lightning in a storm near Ancona about 285 km south of me," says Binotto. One bolt was so strong, it generated an intense electromagnetic pulse (EMP). The red ring marks the spot where the EMP hit Earth's ionosphere. Normal lightning bolts carry 10 to 30 kilo-ampères of current; this bolt was about 10 times stronger than normal.

Binotto created a graphic showing the scale of the ELVE:

"It was about 100 km high and nearly 360 km wide," says Binotto. "I have been photographing upper atmospheric lightning and transient luminous events (TLEs) since 2019, hundreds of them, and this is one of the biggest structures I have ever seen."
And here is the ELVE itself: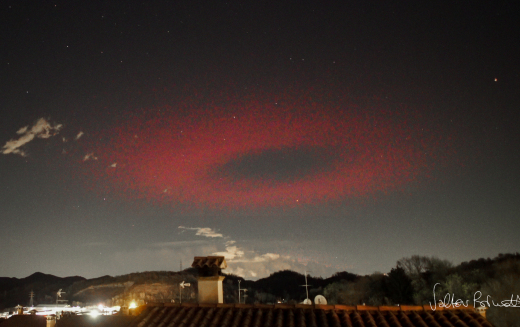 Now for those who've been following the story of ionospheric heaters like America's HAARP or Europe/Germany's EISCAT, these heaters essentially can create "channels" for plasmas - such as large lightning discharges - in the atmosphere.  With enough power and under the right conditions, the normal protection from the solar wind afforded by the Earth's magnetosphere might be turned off just long enough to create effects much more stupendous, and destructive, than this.  IN other words, the massive lightning bolt that produced this effect may have itself been the artificial creation of such a technology. After all, it packed a current much larger than the typical lightning strike.
The bottom line?
I do not view this as just "another normal incident" which an Italian with fast reflexes was fortunate enough to photograph. I think this was on the order of a message, and if so, then the message would seem to be clear: get back on the reservation, and let us rake in massive profits on synthetic foods and their patents, while we put your farmers out of business, and ruin your health.
See you on the flip side...
Please understand a donation is a gift and does not confer membership or license to audiobooks. To become a paid member, visit member registration.